Ski & Ride Safely
Safety First
Safety First, is something every skier or rider should live by. Nothing ruins a great day on the slopes faster than an accident that didn't have to happen. Whether you choose to ski or snowboard, there are elements of risk involved in the sport that common sense and personal awareness can help reduce.

Safe skiing and riding is each person's responsibility and you can help create a safer environment on the hill by "Knowing the Code".
Established by the National Ski Areas Association (NSAA), "Your Responsibility Code" is the mantra that all skiers and snowboarders should know and observe. Follow these guidelines when on the hill and know you've helped reduce the risk for all:
Always stay in control. Be able to stop and control speed to avoid others or objects.
People ahead/downhill of you have the right of way. It is your responsibility to avoid them.
Never stop in the middle of a trail or where you are not visible from above.
Whenever starting downhill or merging, look uphill and yield to others.
Use devices to help prevent runaway equipment. (Leashes on snowboards are required.)
Observe all posted signs and warnings. Keep off closed trails and out of closed areas.
Prior to using any lift, you must have the knowledge and ability to load, ride, & unload safely.
This is a partial list. For more information on safety points and program, visit the National Ski Areas Association website.
Ski area operators, ski patrollers, and employees have the authority to discipline or remove any person found skiing or riding in a careless or reckless manner not in accordance with the above guidelines.

Tickets or season passes can and will be revoked due to irresponsible behavior and will not be refunded! Ohio's Safety in Skiing Law (ORC4169-08) specifies your responsibility as a skier/rider and your ability to be held legally liable for your actions.

More more information on MRM Ski patrol visit their website.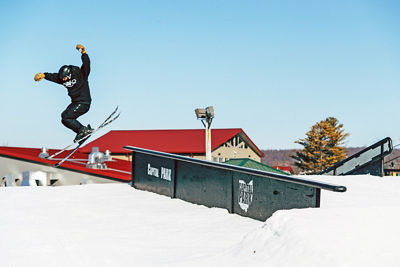 Smart Style
"Smart Style" Always in the Terrain Parks

The National Ski Areas Association and Burton Snowboards have teamed up to create some additional guidelines specific to freestyle skiers and riders. It's all about keeping your on-hill style smart and getting some R-E-S-P-E-C-T.
Making A Plan
Go into the park with a plan for which features you want to use. This will help you plan your speed, approach and take off for each maneuver.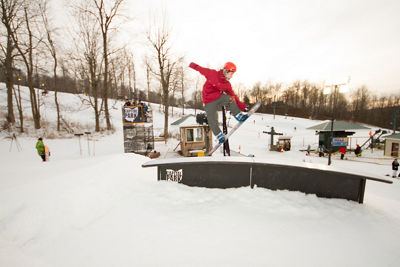 Look Before You Leap
Observe all posted signs and warnings before heading into freestyle terrain.
Scope around the jumps first, not just over them. Know your landings are clear and after your maneuver (or fall!) clear yourself out of the landing area.
Only stop where you can bee seen by others. Never stop on the take-off or landing of a feature.
Use your first run as a warm-up to familiarize yourself with the terrain.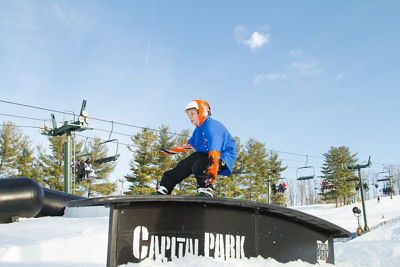 Easy Style It
Start with small progression parks and work your way up.
Remember that freestyle skills include maintaining control while in the air, not just while on the ground.
Do not attempt any features unless you have sufficient ability and experience to do so safely.
Inverted aerials increase your risk of injury and are not recommended.
Respect Gets Respect
Courtesy starts in the lift line. Wait your turn and alternate.
Keep that motto rolling to the terrain park... wait your turn for features and call your drop in.
Respect the terrain and others in it. Skiers and riders of all levels are welcome to enjoy our four parks at Mad River.
Chairlift Safety
Now that you know The Code and how to keep your Smart Style, let's add a few points to remember about safe lift usage
---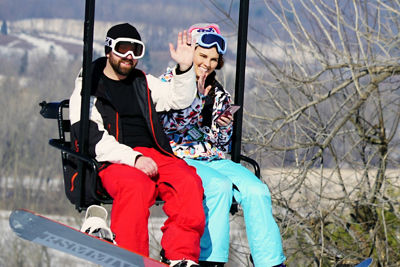 Chairlift Tips
Never jump out of a chairlift. Only load and unload a lift inside designated loading areas.
Do not swing or bounce chairs while riding in them.
Do not wear loose or hanging items that can get wrapped around the chairlift poles.
Ask for help if needed. Lift operators can slow or stop the lift if they know you need assistance.
Be courteous in the lift line. Wait your turn and alternate as directed by staff. Allow approved mountain representatives to go in front of you if necessary!
Remember the line moves faster when the chairs are filled!!
Launching Winter 23/24
Take an Epic expert with you wherever you go on the mountain. My Epic app provides you:
Mobile Pass & Lift ticket
Interactive trail maps, with trail and grooming status
Real-time weather, snow totals and mountain cams
Your on-mountain GPS location and stat tracking
Resort updates and safety information
And more!